Itineraries – our new hotel magazine is published
11 December 2017
---
We are very excited to announce that our new edition of the Hotel Magazine "Itineraries" has been published!
68 pages tell you all about the festive Vienna with its world-known Viennese Ball-Season, about the enchanting concert "Christmas in Vienna" and offers a great variety of information regarding the Themed year "Vienna and it´s Modern days", which celebrates its 100th birthday in 2018.
"Itineraries" is issued at Grand Hotel Wien as well as all our restaurants and Bars.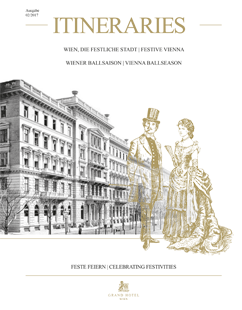 Read ITINERARIES online:
ITINERARIES 02/2017
ITINERARIES PDF-Download (9 MB)