Mother´s Day Brunch at the Grand Brasserie
14 February 2018
---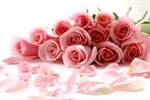 On Sunday the 13th of May 2018 from noon until 3 p.m. we serve our delicate "Mother's Day Brunch" at the Grand Brasserie.
You may expect a wide selection of hot and cold delicacies straight from our cuisine – starting from excellent hors d'oeuvre, regional, traditional and international dishes to divine desserts and fine patisserie.
To also meet the expectations of our little ones, we offer child care from the age of three to ten. It not only guarantees them culinary highlights but also a lot of fun while playing, painting and spending some endless hours with their new-made friends.
Our delectable brunch comes with coffee and tea specialities, non-alcoholic beverages and Szigeti sparkling wine as much as you like (excl. freshly squeezed juices).
Price p.P.: 69 EUR
Kids from 6 to 12 years will be charged half-price.
Children under 5 enjoy our brunch for free.
Sunday from 12 a.m. to 3 p.m.
Reservation is required.
Please contact Mrs. Sonja Doppelreiter
sdoppelreiter@jjwhotels.com
Tel +43 1 515 80 – 1850